PROM NIGHT. The night you won't forget. I just had it!! Our school's prom night was totally amazing! I really had so much fun there. I'll miss the moments like my prom night so much! And guess what I got an award too hahaha that was unexpected! Thanks to my juniors who voted for me ;p Too bad I forgot to bring my camera with me (I even forgot to wear mascara!) so I just have few photos with medium quality taken with a pocket cam :/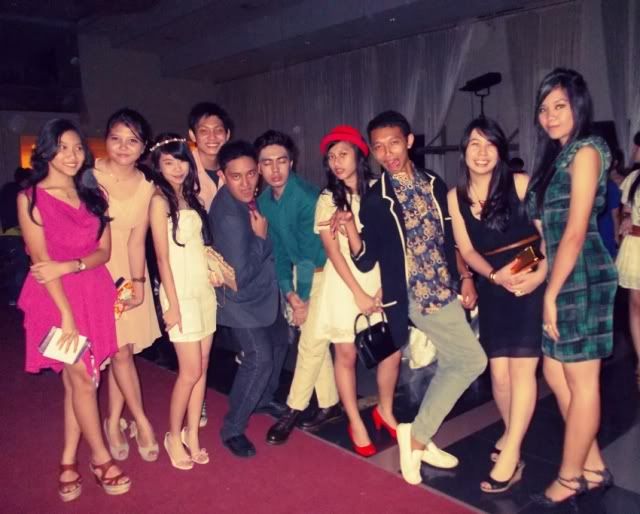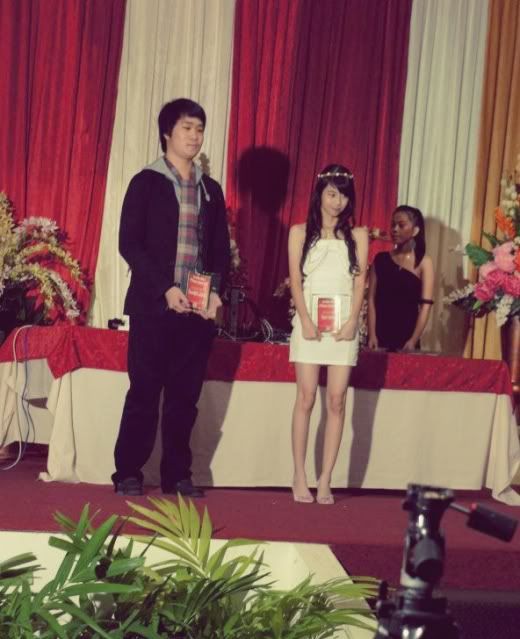 when I received the award hahaha that was a bit awkward :x
By the way do you notice that flowery headband like I wore on the pic is trending everywhere rite now? Now am going to share how to make one of your own!!


Source lookbook / lucedale / hot chocolate and mint

What you'll need: glue and its applicator; 3 strings to make the headband base (each has 42 to 45 cm length); assorted ribbon to make the roses (you can also use flower ornaments); scissor; leafy ornament (you can also use other fabric that colors green to represent the leaf's color); threads; sewing needle; black elastic band (11 to 14 cm, adjust to your head).
Additional tips in picking the materials:
♥ To make the headband base, I chose brown suede strings to represent wood. It's ok if you want to use other color, let your imagination leads! ;)
♥ In my case, I couldn't find the perfect flower ornaments that are ready-to-use in the stores I went to, so I decided to make my own roses with soft pink silky ribbons. If you're not patient I recommend you to use flower ornaments instead of making the roses one by one because it needs patience ;)
♥
I got my leafy ornament from my grandma's flower decoration in our house
hahah :D I hope she won't notice that I've "stolen" one of her deco leafs :p If you can't find any leafy ornament, you can use other fabric that colors green such as flannel or patchwork. But this is optional. If you don't want leafs on your headband, you won't need this material.
♥ Use threads that have same/similar colors with your strings and ribbon/flower ornaments.
♥ If you can't find black elastic band, you can use white elastic band that is easier to find.
Just color it black with fabric dye or marker. You can also get it from your unused headband like I did
:D

I hope my grandma won't notice this 3:p


Step by step ♥
1. First of the first, unite 3 strings and bundle them tightly with thread. Don't worry, we don't need sewing here :p Braid the strings to the end and then bundle the tip with thread again. Make sure you bundle them tightly,
very tightly
. Now you have the headband base!
2. If you use flower ornaments, all you have to do is just sew them to your headband base. But if you wanna make your own roses, prepare the ribbon now. Cut it to 12,5 cm or around. We're gonna make the roses one by one ;)
3. Fold the mid of ribbon to right (see the picture). Fold the part A down and then the part B to left. Fold the part A onto the top, and the part B to right. Continue doing that until there's no more to fold.
4. Hold the shorter tip with one hand while the other hand pulls the longer tip downward. Pull it until you get a perfect form of rose. Cut the remaining ribbon. Form your rose with glue. Use applicator if needed.
5. After you made your roses, now it's time to make leafs! Cut the leafy ornament/flannel/patchwork/whatever to small leafs. Paste the leafs to the back side of the roses one by one! ;)
6. We're almost done! Sew your roses to the headband base and last, sew the black elastic band to the tips of the headband base. To avoid the elastic band to be detached from the headband, I recommend you to bundle and glue them up too, not just sew them.
7. Tadaa! Now you have your very own flowery headband!
If you make one based on this tutorial please take a picture of you with it (your very own headband!) and send the pic to indymumu@gmail.com ,
or
simply post the pic to your own blog and write that you got the tutorial to make the headband from my blog (don't forget to feature my link) ^^ Tell me if you've done so I can check your blog :D
I'll feature your pic and YOUR LINK on my blog post + list your link on my sidebar when I pimp it
:)
p.s.: feel free to ask for tips/help if you find any difficulty on making this headband. But I'm sure you won't find any. Steps above are so easy to do ;)