Hello readers! Hellooo August! Whoa. Why does time fly too fast it's August already?? 4 months left and we'll enter 2013! :o (if all those prophecies about end of the world or what-so-ever aren't true) And in less than one month I'll leave Manado to Jakarta! Look how fast life goes on. Sometimes I wonder to be a teenager again.. oh well, I'm 18 and still a teenager haha, but however, from now I can't act like a child anymore and there will be a lot more things to do myself. And you know that being a college student isn't as easy as being a high school student, don't you? Lol… I'm thinking about so many things lately, like which meals that are healthy yet easy to prepare (for I'll live aboard), my health, my parents' struggles for me (yea...), and also things that I want to do before I die :D Here's the recap:
1. Marry my soulmate. Yup, I believe soulmates are exist! And off course having kids with him in a comfortable house. May God grant my wishes :)
2. Watch a match of Germany national football team or Bayern München against oh-who-so-ever, and take a pic with Holger Badstuber or Philipp Lahm. I've been dreaming this since I was 12 and until now I still desperately want it.
3. Be a stylist or fashion editor for magazine or own a boutique. Or maybe all at once. (well, I often change my mind about what I wanna work in the future. I think I fit in many fields. However I want to work for what I love. The main point is I want to be happy, not just success :D ).
4. Do something remarkable like being a top fashion blogger!
5. Go to London. And if God wills, I wanna attend London Fashion Week. *drooling*
I know I should list at least 10 but I'm still thinking about the rest haha :D

Idk why last week I felt so fancy and suddenly wanted to make new hairpieces haha :D so I went to decor shop near my dad's store and bought some plastic flowers then bundled them on my old headband :D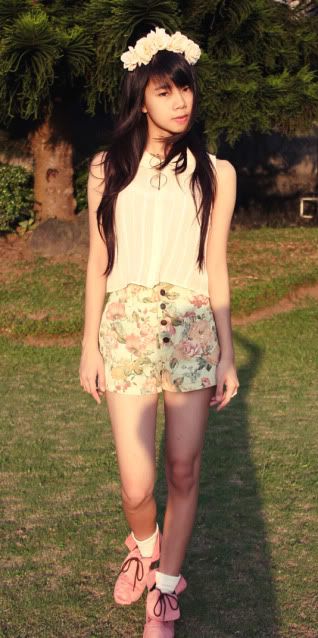 Head-to-toe details: DIY floral hairpiece, thrifty lennon glasses, Forever 21 cropped sleeveless peterpan collar blouse, peach inner tank top, sideways cross ring from Needle N' Thread, Unbranded floral shorts, socks, AdorableProjects pink suede boots.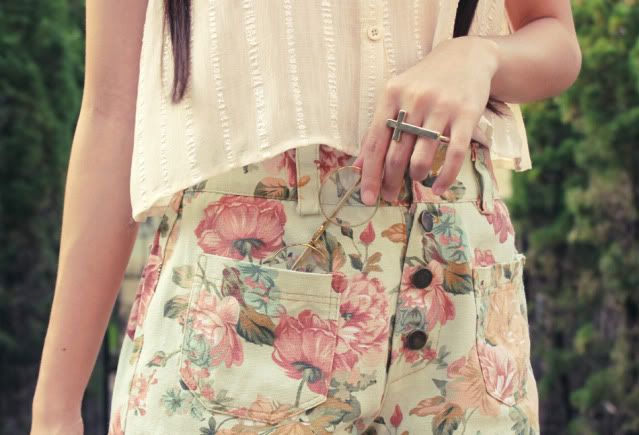 Found these super cute shorts and lennon glasses at thrifty stores! :D