Oh yeah people. This is what you've been waiting for. I'm back!! So sorry for the hiatus. Once again blame my preparation before college start and the first-weeks-of-college-rush. Thank God I was finally able to manage a photo shoot in my auntie's flat! Except the inconvenience to take great pics for my blog, living in Jakarta is quite interesting so far :D I initially thought that I won't have many friends here but it turns out totally wrong. I got so many new friends here and so far I can tell that they're extremely fun. Oh and have you read my diy flowery headband tutorial on Gogirl! Magazine Indonesia September Issue? :D Someone please get rid of Wake Me Up When September Ends song I had too much fun this month!!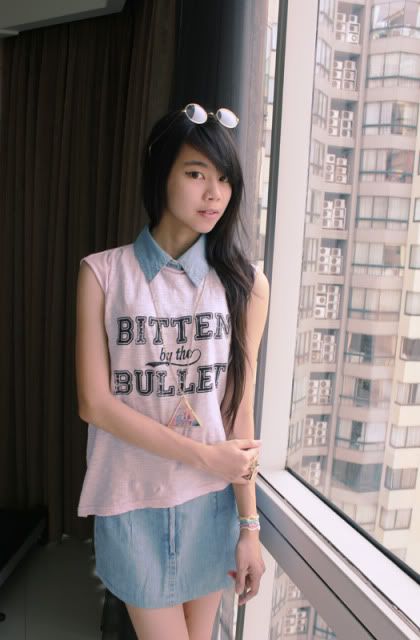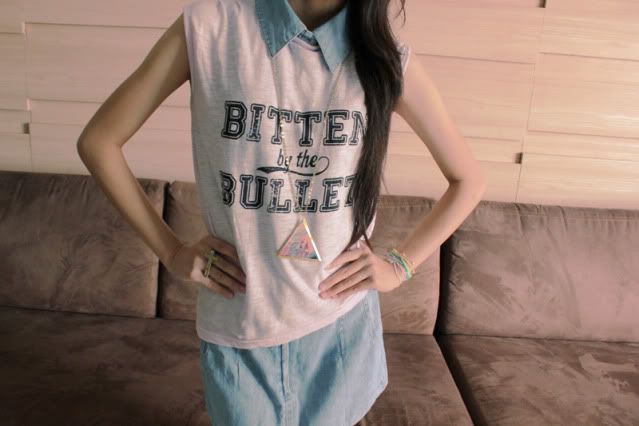 I was wearing my new diy haul, guess which stuff is it. Yes it's my necklace! And I'm going to give you my lovely readers the tutorial to make a triangle pendant necklace like mineee ♥ I made it with cardboard, printed images and a used chocolate tray. I know you guys bored with those DIY sites which keep telling you to save the chocolate tray and use it as ice tray or pudding mold. AND also those which keep telling you to make a stationary organizer or photo frame with cardboard. That's so nineties I say :p So you guys should try the tutorial below. I'm a true inventor, am not I haha. Thank me later :p
What you'll need: Printed images (don't need to print them on glossy photo paper if you don't have one. I'll tell you how to make them glossy with a simple way), gold/silver chocolate tray, double-tip, wide transparent tape, scissor, cardboard, needle, chains.

1. Cover your printed image with wide transparent tape so it'll look glossy. Make sure you cover the whole image. Then, stick double-tip to the back side of the printed image. Cut the image to triangle shape. You can adjust the size. Now you have a "glossy triangle sticker" :D If you gonna make your pendant two-sided, then repeat the steps to the second image.

2. Stick the sticker to cardboard. With pencil and ruler, draw straight lines around the sticker (give margins between the sticker and your lines). Cut the cardboard.
3. Cut the side of chocolate tray lengthwise, suit their length to your triangle cardboard. Stick double-tip to their back sides and then stick them to the sides of your triangle cardboard.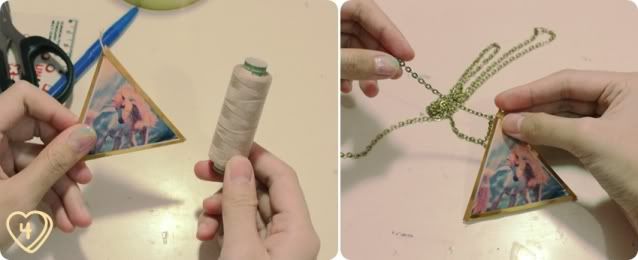 4. We're almost done! We need a small hole to make the pendant "a pendant" riteee? :D So make it with a sewing needle. Put thread or wire into the hole and last touch, put your pendant into the chains ♥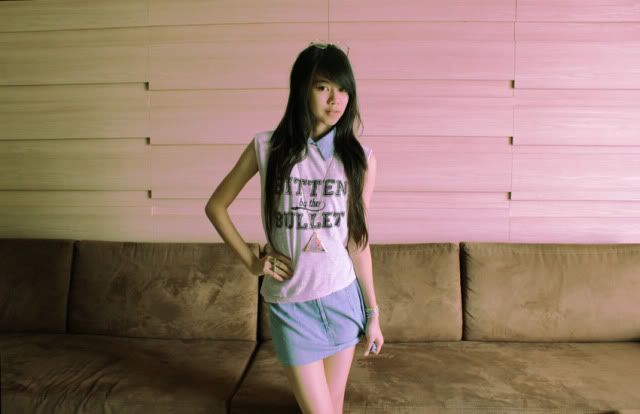 Head-to-toe details: thrifted lennon glasses, Forever 21 denim summer vest worn as inner, Gaudi asymmetrical tee, DIY triangle pendant necklace, customized denim mini skirt, sideways cross ring from Needle N' Thread, rainbow silly bands, vintage purse from Galz Closet One, AdorableProjects pink suede boots.
Last, I wanna say thanks to
Ruby and Rosa
who have nominated me in their blogger award :D Go visit their blog they are very humble and have great taste of fashion ♥