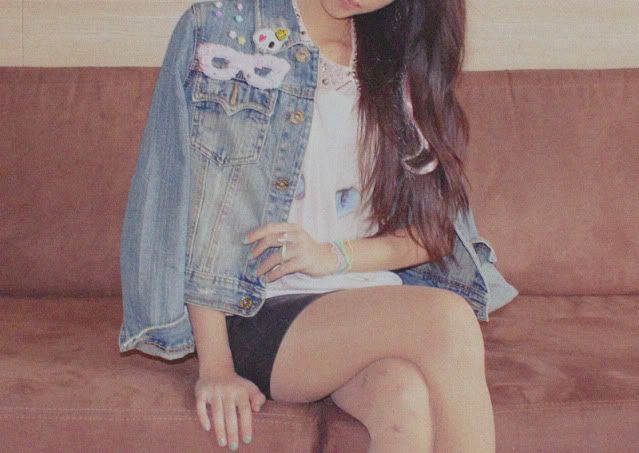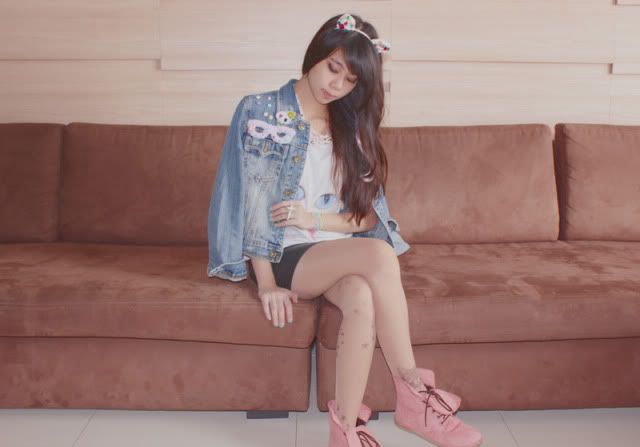 Head-to-toe details: DIY jeweled cat ears, New Look studded collar necklace, New Look cat printed tank top, A+K denim jacket, assorted brooches, rainbow silly bands, unbranded polished leather skirt, tattoo stocking from Luvely Pink Shop, AdorableProjects pink boots.
Feeling familiar with my outfit in this post? Yup, I was inspired by Girls' Generation outfits in their comeback single, I Got a Boy xD I just looove all the stuffs that they wore in their music video, especially their beaded denim jacket and Jessica's jeweled cat ears. Too cute!! I'm not a KPop fan but I have to admit that I really enjoy Girls' Generation MVs – pretty girls, catchy songs, AND awesome outfits. They're absolutely a boredom killer and also a fashion inspiration! I tried to "dress-up" my old denim jacket with some brooches and beads, but yeahh I know that my denim jacket is far from GGs'… But I can say proudly that I've made a cute jeweled cat ears headband myself :3 You can also make it yourself!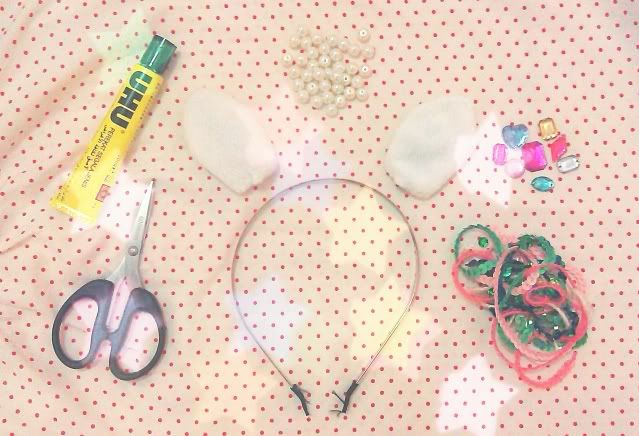 What you need to make your own jeweled cat ears: headband, fake jewels, fake pearls, sequins, a pair of cat ears (you can make them yourself with flannel. Cut the flannel to cat ear shape – make 4 cat ear shaped flannels. Sew 2 of them together and insert a wire inside the cat ear to make it stand well. Repeat the steps to the 2 other flannels), and glue.

See you when I see you!